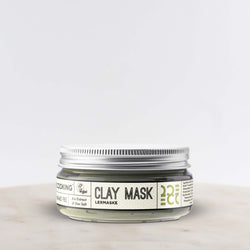 Ecooking's Clay Mask contains iris extract, zinc salt and vitamin A to cleanse, refresh and reboot the skin. 
The combination of active ingredients also helps to reduce redness and the sebum production responsible for unwanted oily skin. Pseudoalteromonas Ferment Extract, a peptide extracted from Antarctic mud and also known as Antarcticine, regenerates and protects as well as improves hydration. Nothing guarantees glow quite like this mask. 
Vegan and Dermatologically tested.
100ml
How to use:
Apply the Clay Mask 1-3 times a week or when needed. Cleanse your skin, apply the mask on dry skin in an even layer all over your face. Avoid going too close to your eyes. The Clay Mask can be applied on neck, back and décolleté, if you have blemish-prone skin these places. Let the mask work until it's completely hardened and remove with lukewarm water.
INGREDIENTS

Illite, Aloe Barbadensis Leaf Water, Kaolin, Cucumis Sativus Floral Water, Aqua, Monmorillonite, Propanediol, Pseudoalteromonas Ferment Extract, Retinyl Palmitate, Iris Florentina Root Extract, Zinc Sulfate, Sodium Salicylate, Potasium Sorbate, Alcohol, Caprylyl Glycol, Phenoxyethanol, Citric Acid, Sodium Benzoate